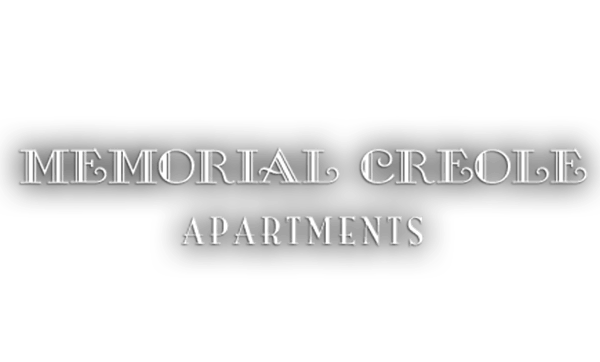 Memorial Apartments- Luxury Living 77024
Nestled in the prestigious woods of Memorial Houston, Memorial Creole is an exclusive community that embodies Southern charm and boasts authentic Louisiana-style architecture based upon the grand antebellum manors of the deep South. Our boutique community offers 154 residences with exceptional interiors and zoned to exemplary Spring Branch schools.
World Class Amenities
Award-Winning Architecture
Original design by renowned architect, Lucian Hood
Courtyards with over 200 rose bushes
Two, sparkling pools with plush, lounge chairs
Scenic Hunter's Bayou attracts beautiful birds and wildlife
Our Neighborhood
Hunters Creek/Memorial
With French Colonial Riverside Homes right on the creek next door to Duchesne Academy, Houston's finest college-prep school for girls, you will enjoy convenience and prestige of living in one of Houston's most well known neighborhoods.
Quaint Luxury
At-home Comfort
Fully Equipped Kitchens with Large Pantries
Washers and Dryers
Spacious Walk-in Closets
Granite Countertops and Stainless Steel Appliances
*In Select Homes
Excellent Schools
Spring Branch I.S.D
Memorial Creole is zoned to the top-rated schools in Spring Branch, and is located adjacent to Duchesne Academy of the Sacred Heart.
Hunter's Creek Elementary
Spring Branch Middle School
Memorial High School
Memorial Apartments Radiate Historical Charm
The unassuming drive into Memorial Creole is about as misleading as anything you'll find in Houston. Modeled after lavish river houses of the past, the boutique Louisiana-style community gracefully blends the artistic history of mixed style architecture along design elements inspired by the grand homes of the south.
Reminiscent of New Orleans' Garden District, Memorial Creole instantly transports you back to a simpler, more relaxed time. The unique and charming two- and three-level homes look more like Savannah, New Orleans, or Charleston than Houston. Set far back from the hustle and bustle of city living, these Memorial apartments may not feel like Houston – but they have the address and convenience to prove they are.
The award-winning architecture of Memorial Creole is what makes it one of the most stunning and unique communities in all of Houston. Renowned architect Lucian Hood put his delicate and harmonic touches throughout the Louisiana-style Memorial apartments, paying attention to every detail. In fact, in 1970, the Mayor presented Memorial Creole with an award of distinguished achievement for "outstanding contribution to the environment of the City of Houston in the creation of a special atmosphere through careful planning."
Though they just celebrated 51 amazing years, the same qualities and "careful planning" that made Memorial Creole a distinguished atmosphere back then still remain at the forefront of this charming, upscale community. The Memorial Creole apartments boast a prominent Houston address with an enviable neighborhood and village feel – one you have to see to believe. Tucked away in one of Houston's most prestigious and coveted neighborhoods, Memorial Creole has unprecedented style and charm—one of the reasons residents move here and stay here.
When Architecture Becomes Art
No two homes throughout the 8-acre, southern-style community are alike. The Magnolia-lined private drive guides you down all 23 of the mixed-style, architecturally renowned buildings, each evoking an exclusive southern charm that is befitting of a much simpler and more relaxed time.
You won't find any cookie-cutter apartments at Memorial Creole. You will find that each home offers a spacious and maximized layout, all designed to let natural light shine through the large, open windows that overlook the ornate landscaping. Some homes even boast windows on three sides, making it feel more like a home than any apartment you've ever visited.
Modern Renovations Paired with Original Charm
Each home has gone through recent renovations, adding five-star amenities like stainless steel appliances, expanded floor plans, and more, but the original charm remains the cornerstone here. All the intricacies and little touches that have made Memorial Creole so unique and breathtaking over the years have been kept intact. Opening up the floor plans and creating more convenient and livable designs, along with highlighting the original southern charm are what make these luxury apartments one of the most coveted in the area—they've even had a waiting list more than once.
Sophisticated and original details like the wrought-iron staircases and original columns in the homes are still intact, along with other architectural elements, though each home has been modernized and upgraded. That's why these Memorial apartments give you the best of both worlds for ultimately maximized living.
Mature and Intimate Signature Landscaping
The uniqueness and charm of Memorial Creole doesn't stop at the front door. The intimately inviting courtyards and mature landscaping throughout the entire 8-acres is a rarity in Houston. A community designed to feel like an elegant and sophisticated neighborhood, residents are surrounded by mature boxwoods, dazzling crepe myrtles, billowing magnolia trees, flowering wisteria, various fruit trees, more than 300 rose bushes, and more in their own backyard.
The thoughtful landscape and design extends to the pool area, where bamboo trees line the perimeter, providing natural and private shading to help you beat the Houston heat.
Quaint Luxury and World Class Amenities
You don't have to sacrifice modern appliances and amenities for all the original charisma you get at Memorial Creole. Here – you can have it all. That includes ample storage space including extensive kitchen pantries, sizable dining spaces and private breakfast nooks, and jaw-dropping walk-in closets (some with as much as 40 feet of built-in shelving, making organization a breeze). Each home includes a fully equipped kitchen, granite countertops, stainless steel appliances, washer and dryer, and a private balcony or front veranda giving you all the at-home comfort you desire. Whether you want to entertain or keep it all to yourself, all of this and more awaits you at the Memorial Creole Apartments.
The Finger Companies Five-Star Service & Commitment
Developed, owned, and managed by the Finger Companies, it's no secret we take immense pride in our signature lush landscaping, thoughtfully designed floor plans, and envelope-pushing amenities, but the true heartbeat of our brand and our communities is our employees. Offering five-star service day in and day out, we promise you'll find each member of our team is dedicated to providing an unwavering commitment to excellence—move-in to move-out, and every step in between.
Come tour Memorial Creole today at 10220 Memorial Drive, or call one of our expert leasing agents at 713.464.3643 to secure your new home inside one of the most coveted zip codes of Houston.
Read More
Memorial Creole Features
Floor Plans from 870 Sq. Ft. to 3,200 Sq. Ft.
Washer and Dryer in Every Home
Private Balconies and/or Front Verandas
Breakfast Nook or Separate Dining Areas
Walk-in Showers in Two-Bedroom Homes
Ceiling Fans In All Bedrooms
Expertly Crafted Apartment Homes
Memorial Creole is developed, managed, and proudly owned by the Finger Companies. With over 60 years of multi-family experience, we have mastered the art of crafting luxury, residential properties in prime locations across the United States. Exceptional service and amenities are the foundation to each and every one of the Finger Companies communities, and we hope you choose to call us home. Come and see some of the other Properties that we are proud to own!